"There is a distinction between equestrians - athletes who do horseback riding and horse lovers, who undoubtedly love riding, too, but at the same time have an incredible connection with equines at another level."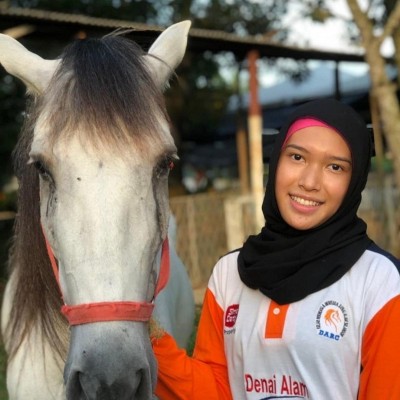 I am Nur Batrisya Zambri, and I am unquestionably a girl who absolutely adore horses, and I am what people can define as a 'hippophile.' I love horses and everything to do with horses. There is just that sense of genuine happiness being around horses, and no matter how bad of a day it might be, spending time with horses makes me feel gratified. Only those who have experienced a friendship with a horse will understand what I mean. No doubt they are magnificent faunas and much of the riding experiences has to do with the mutual respect and connection we have towards them. In spite of their size, it is therapeutic to be around horses. One would need to give their fullest attention and focus when riding so it's a great distraction from the outside world.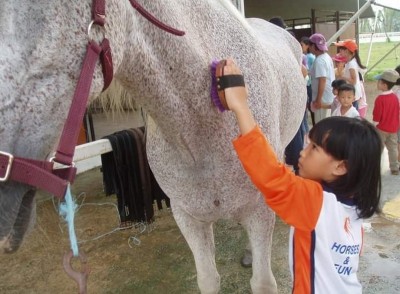 I grew up with a lot of my fondest memories being around a loving, supportive family, good friends and horses. My mum started riding when she was quite young too, and so the interest and fascination for horses must have passed down to me and my younger sister Nur Darwisya from my mum. My first time meeting a four-legged, gentle equine was when I was at a tender age of five years old. My parents brought my younger sister and me to DARC, and from that point on, there was no turning back. It was such a blessing, and I am sincerely grateful that I found something I am quite fervent about. I would, therefore, spend most of my days with the people that I care for here in DARC playing, doing fun activities, horseback riding and just being with these elegant creatures that God created. It has been eleven years, I have just turned sixteen and there is nothing stopping me. Until now, me, my family and friends all still come together to share our laughter, happiness and just enjoyable times at DARC.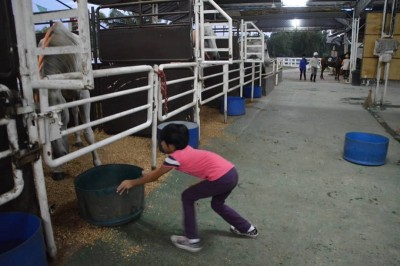 I'm so appreciative for all the horses that I have come to know and spent time with throughout. Being around horses has taught me so much about life, evolved my self-discovery and impacted me in ways that are so sanguine and inspiring. Having a sense of purpose and focus has affected my overall character and viewpoint as a young adult. Not everyone in the world has something in their life that they really like or a hobby that they are persistent with. There are people that just live their life, go through the motion, and just do what they are supposed to do but they do not really have that 'one' thing that they strive for. For some people, it can be about 'cars', 'baking', 'sports' etc. But for me, I knew well what I looked forward to every day. It gave me a sense of drive to get up in the morning, complete my school work, doing the necessities and then spend a good evening with family, friends and horses at DARC. I learnt about the word 'responsibility', 'compassion' and 'confidence' since I had the opportunity to embrace my passion. I really have my family and friends to thank for as well, especially my sister and parents who have been so supportive over me.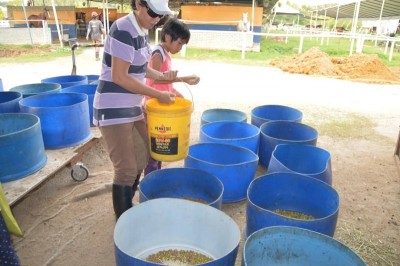 Although horses being such majestic and awe-inspiring creatures as they are, it is not easy to handle horses.  Building a relationship with these beauteous beasts that has a dissimilar way of looking at the world is a form of training us to have fortitude and empathy. I feel that I am ready to face whatever challenges that come to my path and I will turn any obstacles into power generators. It is honestly so pleasurable to groom, tack up, and ride. Horse riding is definitely a partnership. Horses cannot see what is unswervingly in front of them, so to jump with a horse is a matter of the horse entrusting us as the rider to offer the fitting rhythm, speediness, and route that will help us both to the securest spot to take off from—and we riders have to have the conviction that our horse will get us over the boundary successfully. Horses really do try to comprehend us and accommodate —and that is more effort than what most people are keen to do for each other.
I first fell off a horse when I was six years old, but even at that young age, I have learnt the awareness of never giving up and continue to get back on my feet regardless of the challenge. It has been such an incredible journey that I can say it has changed me so much positively throughout the years. It takes guts to climb on a horse, relinquish some control, and ride. I can honestly vouch that it has made me a better person today in many ways since I started as being a shy and introvert child. For me, DARC is like a second home. You could say that I practically grew up in DARC. The environment, the overall vibe, friendly staffs and the place to meet up with family and friends creates contagious good energy. I feel a sense of belonging here and know all visitors and members are always welcomed. When it comes to horseback riding, it does not matter what your riding ability is, the most important criteria is to have the right optimistic attitude, preparedness to learn and improve. Here at DARC, we have an established club for all youngsters who love horses. It is called YES (Young Equestrian Stars) and we welcome everyone to join our growing family.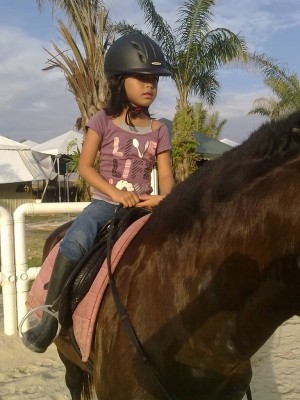 As the President for YES club, I am happy to open this club for everyone irrespective of their background so long as they have a liking to horses. YES club is held every Saturday from 4 pm to 7 pm, and we do many fun activities together relating to horses. Anyone from the ages of 7 to 19 years old can be part of this wonderful club. Here we work together to boost our leadership skills, improve in team-building, develop problem-solving skills, responsibility, punctuality, sportsmanship, patience, commitment, confidence and self-esteem. It has all to do with learning good character traits like having integrity, to be honest always, being courageous, loyal, humble and other important virtues that promote good conduct. After all, horses can let us be the best of ourselves. I am the best of myself when I am around horses. Horses can foster the imagination and delight of life. It is not easy to earn a horse's trust, and that is the challenge – but once you do, you will have it forever. While horses are not always lenient to handle, the journey you take with them is priceless. Here, YES members will have plenty of occasions to be around horses and together we become better people.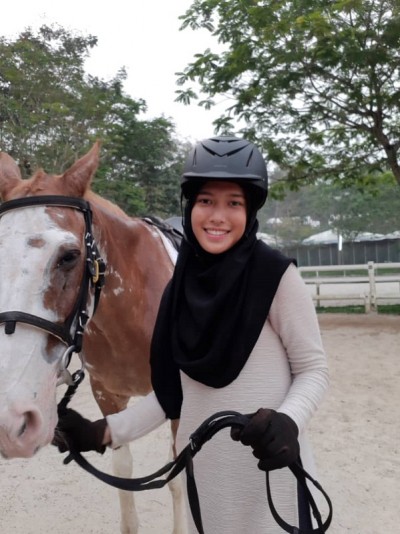 My aspirations as the YES club leader is to see this club flourish into a club that has members who are ready to face the world. We are a club that does not judge others and our goal is to mature together as an inspirational team. No one will be left behind. There will be opportunities for YES members to conduct events, go camping, discuss amazing ideas, visit other stables to create affiliation, and even prospects of entrepreneurship. We will soon have our own merchandise and here we will learn matters of economics and managing finance in order to prosper as a club. I see YES club reaching the pedestal at a national and international level. We are unique and one of a kind. There is no club like YES club. Be part of YES club and join us at DARC. See you soon!
"Horses are the mirror to your soul, beautiful and powerful. I am my best self when I am around horses." – Nur Batrisyia Zambri